Virtual Theater
Techniques for re-enacting Christmas stories online in 2020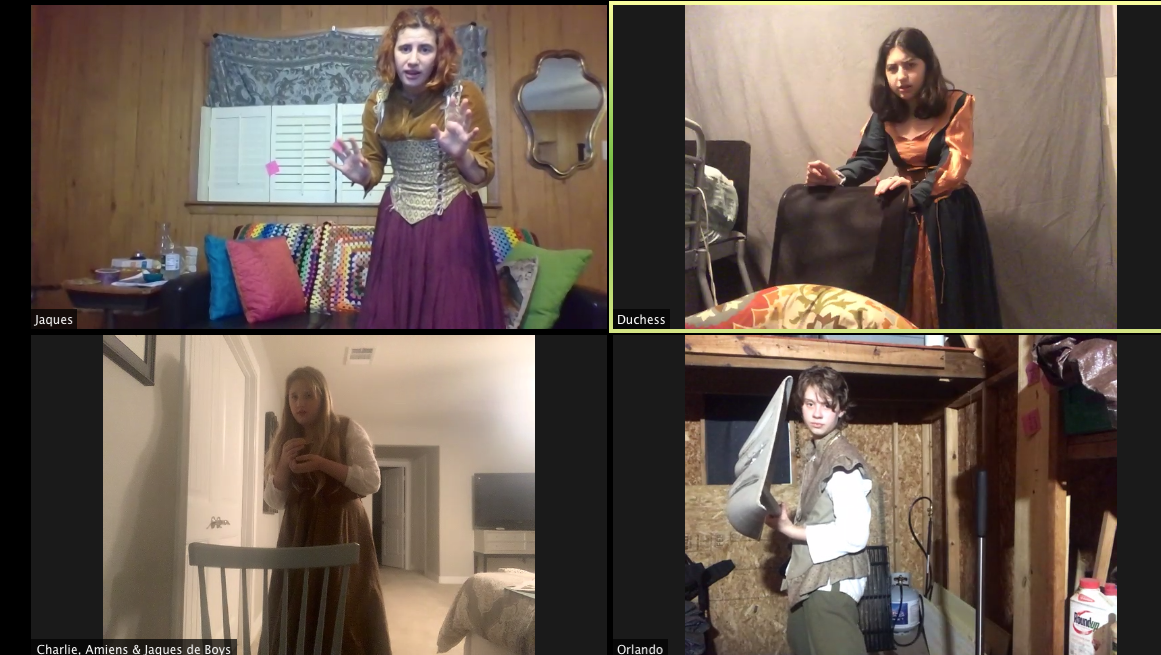 If your church does not feel comfortable gathering for traditional Advent rehearsals and performances this year, there are still options! Especially since the beginning of the pandemic, many churches, schools, and community theaterrs have been experimenting with and producing "virtual theater" performances both live and recorded.

From Pioneer Drama Service:
"Virtual Theater are plays and scenes written specifically to be both rehearsed and performed online via a video conferencing platform such as Zoom or Google Meet. They can also be played back at any time afterwards -- which will expand your "attendance" at the event. Virtual Theater is a new and exciting art form that is just beginning to evolve and reveal its potential. Just a short time ago, no one would have conceived of trying to perform a scene, let alone an entire play, with every actor isolated in their own home. And yet, it's happening... with surprisingly positive results.

Most of the plays here are designed for the characters to be communicating without face-to-face dialogue, yet still interacting with each other in real-time. This unique quality creates the ideal scenario to perform them online. Many virtual plays also lend themselves well to be performed live with social distancing for everyone's comfort and safety.

Virtual Theatre is far more than storytelling on camera, and there's a world of acting still to be done to add depth and meaning to the words you're speaking, even without a traditional stage."
To this definition of "virtual theater," we are also adding those performances organized, assigned by the church and then created by families and individuals on their own time and posted to the church's Facebook page and website to create a "montage" of retelling one story or many stories.
A How-to Guide for Virtual Theatre is a free PDF that is a good place to start exploring options and techniques. Consider how you can stage a production with the actors scattered throughout your community (or even around the world!). "Here's the key to putting on a successful virtual theatre performance: you need a solid understanding of how to utilize the features of your video conferencing service to enhance your production and maximize the immersive experience for your viewers." This booklet includes detailed instructions for setting up your performance using Zoom, but includes much information that will be useful for whatever platform and format you end up using.
Be sure to also review the helpful suggestions in How to Direct an Online Rehearsal for a Youth Zoom Theatre Performance from the ImprovEd Shakespeare Co. (their production is pictured above and there is a video of a production linked in the article).
Consider taking some of the virtual theatre ideas and adapt a favorite script (or find one here) and create your own online performance to be shared with friends near and far.
Select a script.
Cut the script into family-sized pieces.
Recruit children/families to read, sing, & dress up in costumes or hold props.
If the script is divided in a way that different children will play the same character in different scenes, establish costume guidelines, such as "Mary always wears blue and Joseph always wears brown."

You can also simply assign scripture passages and suggest ways to "creatively capture" them in photos or video for viewing by others. See some techniques below and consider the fun "Flat Lay" technique described here for either photos or videos!
Creating and Assembling a Pre-Recorded "Virtual Theater" Performance
Though "live" performances can be exciting, you may have a need to let participants pre-record their participation for inclusion in a series of videos your audience can view at any time online. These can be posted "as people make them" during Advent (such as, one story retelling per week) or a collection of links to photos/videos posted on the church's Facebook page or web page.
Here are some steps and ideas for doing so.
Choose the story you want to be told. Perhaps it is a walk through famous Christmas stories and scenes, a Christmas "script," or a sing-a-long. Have participants record with their web cam or cell phone and send it to you.
Or...have them take a few digital pictures of participants dressed and acting as the Christmas story characters.
Ask participants to record themselves singing Christmas songs and inviting viewers to sing with them.
Give families instructions on uploading or e-mailing all of the audio & video files. Dropbox or google files might be good places to collect all of the files.
Link all the pieces of the Christmas program together in order using video editing software. Your tech crew at church -- or members of your youth group — can help with this.)
Post the edited production or individual videos and photos on your church web site or Facebook page. Share on YouTube.


Steps to create a live (or prerecorded in real-time) performance can be found in the "How To Guide for Virtual Theatre" PDF described above.
Whichever method you use to put together your performance, be sure to tell church members, families, and grandparents when to tune in to watch the children as they make the Christmas story come to life -- and make sure you take time to create buzz and excitement about your event using the features included with a YouTube premiere or Facebook watch party.
Here are the kinds of "scripts" that might work best for virtual theater performances where you might have many different participants and groups to juggle.
TV news shows, with a variety of interviewers, anchormen, and live on the scene activity. Check out "The Channel 7 News" script in the Jesus is Born lesson set.
Variety shows with different families sharing a verse of a song or a passage read from the Bible or a Bible story acted out.
There are a variety of suggestions and links in this article from Building Faith: Christmas Pageants 2020: Recorded, Zoomed, Live Outside.
Here is an outline for a simple Lessons and Carols script that can be used with Zoom and/or by video recording.
And please share your script suggestions below, as well as links to your finished production.
Here is a video from 2018 that is a great example of the traditional Christmas story recorded in a physically distanced way:
Additional resources to help you work with your actors online:
Virtual Theatre Education Resources: the epic crowdsourced list
Teaching drama online: free tools and resources
"Flat Lay" Drama technique for posing photos or creating unique videos
For theatre educators: resources for creating virtual performances
Getting ready to direct your first virtual play
Show Must Go Online - tech support guide - while the details shared by a drama teacher apply to a specific show, they are helpful for organizing, recording, and editing any show.
Zoom Drama Tips: Using Technology for Biblical Storytelling from Building Faith has practical suggestions from casting to scripting to recording to sharing.