Originally posted by member LDM
David & Goliath: Art Idea

Between Michelangelo and Bernini, there is so much great sculpture associated with the Bible character of young David that it seemed like an obvious activity to try with the kids.

Materials used:
plasticine/plastic clay
floral wire (18 gauge x 18" straight wires in pkg from Walmart)
wire cutters
printouts or art book plates of Michelangelo's and Bernini's David.

The basic idea:
Bend one wire in half. Twist top section around itself to form head. Cut a 2nd wire to about 6 - 8 inches. Twist it around midsection for arms. Stick feet into good sized blob of plasticine to form solid base for sculpture.

Have the kids form basic human shape with wire and fill in around wire 'skeleton' with plasticine. The idea here is to reinforce the story by getting them to translate character traits of young David into human form thru sculpture.

To see a 9 yr old's rendering of David in wire and clay, click this link and look for photo #1:

DAVID PIC ON LD'S PHOTO PAGE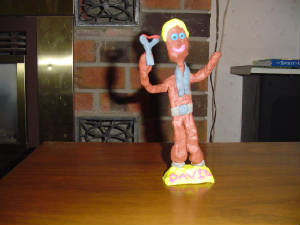 Here are a few questions:
Name some king-like traits of young David.
Name some people you know of that have these traits.
What are the "giants" that you or those people have faced in their life?
When the going gets tough, where does your courage or confidence or 'faith' come from?
David faced his giant more or less alone. Are we always alone facing our giants. Name some people in your support circle.