Originally Posted by CreativeCarol:
I must be missing something... (it wouldn't be the first time)... but sticking gummy people through the bottom of a cupcake?? Poor gummy people. Stuffed up into the darkness of a cupcake!
Perhaps instead it could be cutting the cupcakes in half (to expose the "light") in the middle and then sticking a gummy person as though "walking" in this "light" ??
BTW: the video shows filling cupcakes from the top -- which makes sense as otherwise you'd be poking a hole in the cupcake liner thingy.
Carry on.
FOLLOWING UP:
At 3:40 in the video she says "insert from bottom to conceal the hole."
It's a common way to create filled cupcakes.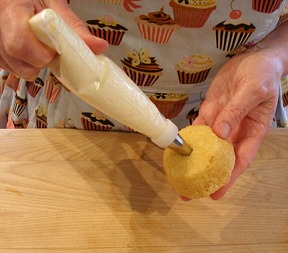 I would use a 'dark' chocolate cupcake, and fill with white icing to illustrate the verse.
Regarding the Gummy Bears inside the cupcakes...
I saw a recipe that said this:
Freeze the gummy bears.
Fill the cupcake paper half full with batter
Add gummy bear
Finish filling the cupcake paper and bake.
I really like the Fortune Cookie idea too...because it contains a message.
Jesus is that message.